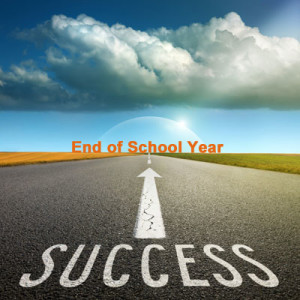 The middle of May has come, and as a special educator you have hit the home stretch.  You have planned, programed, preached, provided, and positively reinforced purposefully.  Every step of the way you have told yourself "I think I can, I think I can, I think I can," and now you can see the light at the end of the tunnel.  But for your students with autism, that end may not be bright at all unless you are able to set them up for success during this last leg.  Here are six tips to support your students with autism as the wraps up.
 Set up a plan to transition into the next school year.  Regardless if the student is just moving up a grade or to an entirely new school, make sure that there is a plan for adults to connect about your student and a plan for your student to connect with their new learning environment.   I discussed this in more detail here, but parents can play a great role in helping make September a big success over the summer through conversations that are had today.
Make families aware of community resources.  What is available will vary greatly depending on which area the student lives in, but get families connected with any camps, events, or any recreational activities that might be appropriate.  A wonderful national resource any family can visit is the Autism Speaks Family Resource Guide.  You can find the link here.  Pick which state you live in, and then it provides a listing of resources in the area including community and recreational activities.
Provide recommendations for skills to be generalized at home.  Look back at the year and consider what skills your student has gained, but only expressed at school.  This could be anything from appropriate social greetings to balancing a budget.  The success seen in the schoolhouse does not have to end there.  Empower your students to show what they have learned with their loved ones at home.
Provide direction to promote maintenance of skills.  All students regress to some degree during summer vacation.  If there is a skill you fear your student will significantly lose ground in if not practiced, share ideas with the family how it can continue to be supported during the summer months.  This may be a matter of doing flash cards for a few minutes twice a week or periodically practicing de-escalation strategies.  Make it simple and keep it to one or two items though, we still want our students to feel likes it is summer.
Share resources for caretakers.  If your student will be in the care of someone who is not familiar with autism over the summer, invite them to come observe how you support your student in the classroom.  You have been provided many opportunities for professional development in supporting these kids , they most likely have not had the opportunity.  If nothing else direct them toward seeing a film on the autism, like "Temple Grandin" so they get an idea of who they will be working with.
Celebrate!!!  It has been a long year.  Remind yourself and your student of the gains that have been had.  Have them complete a scrap book of their successes this year at school to take home over the summer.  Making such a resource available to review during the hot days of July and August may help the student's mindset and outlook on returning to school in the fall.